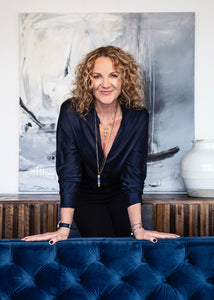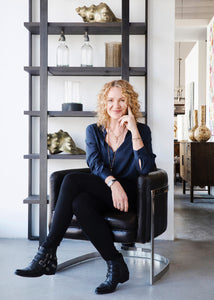 Corinne Weber, the face of The Hängar, was born and raised in Switzerland. Her professional career in Marketing and Business Development and her extensive travels helped her latent passions for design and art. While on a sunset beach walk with her best friend brainstorming business ideas, the concept of The Hängar was born.
In January 2016, the 7000 sq.ft. Hängar first opened doors in Mar Vista, succeeding in its mission to create a space of curated and unique furniture and accessories from all over the world, offered at affordable prices. Corinne also sought to build a community space where people would feel comfortable and inspired in the surroundings of interesting, beautiful things. She collaborates with up-and-coming and noteworthy LA artists, offering them a place to display and sell their art to local patrons.
Lulu Flippin Vintage joined the Hängar six months later adding her handpicked selection of vintage and iconic designer clothing to the eclectic offerings. Lulu caters to fashion fanatics, stylists, musicians and bands; her collection spans the 20th century with a focus on the 1970s. Visit @luluflippinvintage for details.
The Hängar welcomes community events such as artist receptions, vendor Sip n'Shops, networking events, and fundraisers. We've hosted a wide variety of events, including stand-up comedy, travel talks, book signings, documentary film screenings, and even a wedding reception. After 3 years in Mar Vista, the Hängar outgrew its original home, moving to our current and more accessible location in Santa Monica.
Come explore our showroom, filled with curated furniture, art and vintage clothing – our inventory is constantly evolving. We work diligently to keep our prices surprisingly affordable, and have what you choose available to take home the same day. We have select items available online, but the best collection and pricing is in-store.
Thank you for visiting our site and please stop by when you are in the neighborhood. We would love to meet you!
Follow us on Instagram @thehangarla for latest arrivals, new artists, and event announcements.
(photo credit @timhirschmann)